HOPELESSLY DEVOTED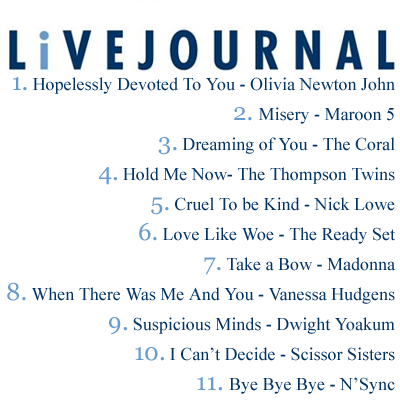 A Livejournal/Customers FST
1. Hopelessly Devoted To You - Olivia Newton John
Guess mine is not the first heart broken
My eyes are not the first to cry
I'm not the first to know
There's just no getting over you
You know I'm just a fool who's willing
To sit around and wait for you
[download]
2. Misery - Maroon 5
So scared of breaking it
But you won't let it bend
And I wrote two hundred letters
I will never send
[download]
3. Dreaming Of You - The Coral
Up in my lonely room
When I'm dreaming of you
Oh what can I do
I still need you, but
I don't want you now
[download]
4. Hold Me Now - The Thompson Twins
So perhaps I should leave here,
Yeah yeah go far away
But you know that there's no where that I'd rather be
Than with you here today
[download]
5. Cruel To Be Kind - Nick Lowe
You say your love is bonafide, but that don't coincide
With the things that you do and when I ask you to be nice
You say you've got to be...
[download]
6. Love Like Woe - The Ready Set
You can take up all my time cause you're the only one
That can make a storm cloud break
Pulling up the sun
[download]
7. Take A Bow - Madonna
Make them laugh, it comes so easy
When you get to the part
Where you're breaking my heart
[download]
8. When There Was Me And You - Vanessa Hudgens
But then you went and changed the words
Now my heart is empty
I'm only left with used-to-be's
And once upon a song
[download]
9. Suspicious Minds - Dwight Yoakum
Oh, let our love survive
I'll dry the tears from your eyes
Let's don't let a good thing die
[download]
10. I Can't Decide - Scissor Sisters
It's a bitch convincing people to like you
If I stop now call me a quitter
If lies were cats you'd be a litter
Pleasing everyone isn't like you
[download]
11. Bye Bye Bye - N'Sync
I'm giving up I know for sure
I don't wanna be the reason for your love no more
Bye bye
I'm checkin' out
I'm signin' off
Don't wanna be the loser and I've had enough
[download]

notes;
this fst completely came from the fact that i'm weird and put songs to every kind of situation there is.
while normal people come up with songs about their pairings or own relationship? i come up with songs
about our relationship with livejournal. it's either sad or hilarious. perhaps a mixture of both.
this is my first fst ever so there's probably a ton of things i did wrong, but i hope you enjoy this anyway.

please livejournal, don't let this be bye bye bye.